Dr. Angélica Garcia is an educational leader with a demonstrated commitme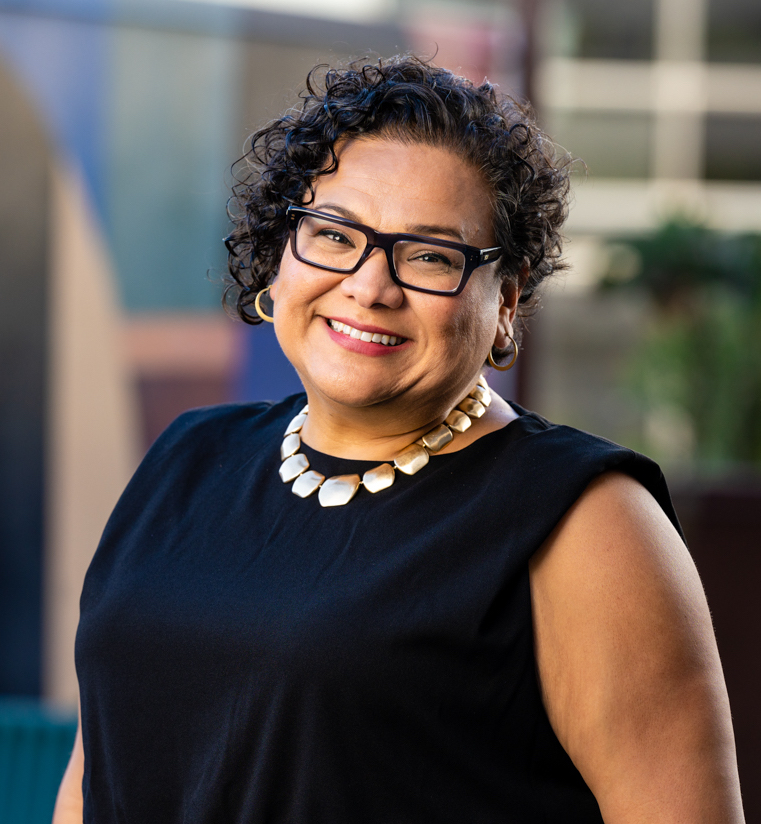 nt to improving access, equity, and student success in higher education. A fellow with the Aspen Institute for New Presidents, the National Community College Hispanic Council, and the UC Davis Wheelhouse Institute, Dr. Garcia is committed to equity-minded leadership. Dr. Garcia earned a doctorate in Educational Leadership at San Francisco State University, a Master's in Social Work at San Diego State University and a Bachelor of Arts degree in Liberal and Civic Studies at Saint Mary's College of California.
Dr. Garcia was appointed the Superintendent/President of Santa Rosa Junior College) SRJC beginning July 1, 2023, a community college known for its commitment to students, high transfer rates, and innovative career education programs. Dr. Garcia's leadership underscores the honor and pride that SRJC has in being designated as an Hispanic Serving Institution (HSI), which advances the learning and development for Latinx students throughout Sonoma County. She recognizes that this designation calls upon SRJC to serve the needs, career and academic goals, as well as create a pathway for access to higher education for diverse student populations.
Dr. Garcia's experience as an educator, social worker, adjunct faculty, and administrator has afforded her the opportunity to develop the leadership and community-building skills needed to impact institutional change. She is committed to leading with integrity from a student-centered framework and building collaborative relationships across instructional and student services divisions to meet the needs of students. Her experience as a first-generation college student, and as a student of color, informs her teaching and leadership lens. Dr. Garcia is grounded in the belief that pursuing higher education is an act of liberation, especially for historically minoritized communities.
Dr. Garcia is an equity-minded educator who leads with integrity, purpose, and commitment to students. Her roles in higher education include being among the ranks of faculty, staff, and administrators. She is known for her inclusive leadership which centers participatory governance for institutional change efforts, such as the implementation of Guided Pathways, expanding Dual Enrollment, creating programs for adult learners, and implementing capital improvement and bond projects. During her tenure as President of Berkeley City College, she successfully led the college through accreditation and fiscal stabilization efforts, while also ensuring that BCC continues to work towards equitable student outcomes, such as increases in Latinx students completing Associate Degrees for Transfer and increases in Latinx and African-American students successfully completing transfer-level math and English within their first year. Using disaggregated data and collaboration strategies, these gains were accomplished as part of a comprehensive professional development effort for equity-minded teaching and services.  
As the Vice President of Student Services at Skyline College, she successfully led the implementation of Guided Pathways, the Promise Scholars Program, the Student Equity & Support Programs Division, and the Equity Institute. She created the Director of Student Support Services office, the first statewide position to serve students in meeting their Basic Needs from a holistic perspective, with a specific focus on students who experienced housing insecurity and/or mental health issues.  
Dr. Garcia's involvement in statewide issues includes being appointed by the Speaker of the Assembly to serve as a member and Vice Chair of the Student-Centered Funding Formula Oversight Committee.
Additionally, as a former member of the statewide CCC Guided Pathways Advisory Committee, Dr. Garcia has advocated for increasing input from students, classified professionals, and faculty from the colleges, as well as sustaining an equity-minded perspective in the implementation effort. She is a founding board member of COLEGAS, a statewide organization focused on advocacy and development of Latinx professionals in higher education and serves on the Puente Project Advisory Board. In 2023, Dr. Garcia was appointed to President Biden's Committee on the Arts and the Humanities (PCAH), which provides cultural policy recommendations to the President and the heads of the National Endowment for the Arts, National Endowment for the Humanities, and Institute of Museum and Library Services.  
Dr. Garcia is a second-generation born Chicana of the Central Valley. She lives in Santa Rosa, CA, with her wife, two daughters, and their dog Esperanza.